Certificate in Spatial Data Science
Join our cutting-edge programs in GIS and Spatial Data Science!

Are you a computer science student or have some programming skills? Interested in applying your expertise to the fascinating world of spatial data science? Look no further! Our programs offer great opportunities for students like you who want to advance their careers and make a difference in the world of GIS and spatial data analysis.
GIS and spatial data science have become indispensable tools in government and business, as they are widely employed to analyze complex spatial patterns, inform decision-making processes, and optimize resource allocation across various industries and sectors. NYC government agencies hire a large number of GIS professionals, including many Hunter graduates, in Planning, Building, Environmental Protection, Transportation, Finance, and other departments.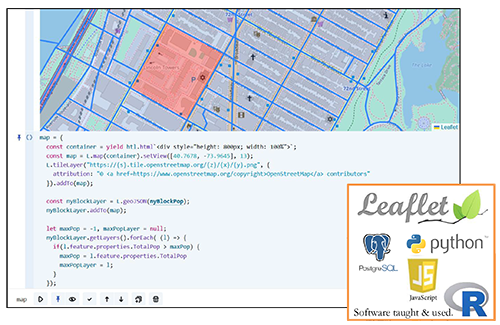 Screenshot of web map and associated code.
Program Offerings

Minor in Geography with a Concentration in GIS
Learn fundamental GIS concepts and spatial analysis techniques
Enhance your resume with a valuable skillset
Gain practical experience through hands-on projects
Specialized GIS Courses
Geospatial Databases: Master SQL for powerful querying and analysis
WebGIS: Develop interactive applications using JavaScript
Data Visualization and Analysis: Perform advanced spatial analysis with R
Environmental Data Science: Apply Python techniques to environmental problems
Why Choose Our Programs?
Learn from experienced professionals and academics in GIS and spatial data science
Enhance and apply your programming skills to real-world spatial problems
Access state-of-the-art GIS software and tools
Network with fellow students, alumni, and industry professionals
Improve your job prospects and stand out in the competitive tech job market
Certification in Spatial Data Science (starting from Fall 2023)
Acquire in-depth knowledge of spatial data science software and tools
Earn a recognized certification to boost your career prospects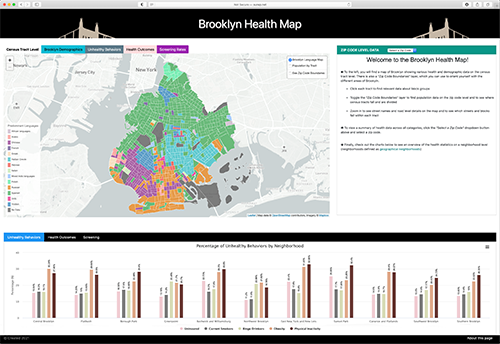 2021 Alice Hudson Award for Best Interactive Map created by Sheena Philogene, MS, GeoInformatics 2022.
---

Requirements in Spatial Data Science Certificate - Beginning Fall 2023

Please refer to Hunter College's Undergraduate Catalog
https://hunter-undergraduate.catalog.cuny.edu/programs/SPDAS-CERT
For more information, contact our advisors:
The Undergraduate SDS Certificate will equip students majoring in various disciplines with the knowledge and skills for analysis of digital spatial information. They will learn the foundations of geospatial technologies from the fundamentals of geo-referencing to the spatial analytic models used to find solutions to the world's most pressing problems. The Undergraduate SDS Certificate will provide Hunter College students with a unique skillset that will increase their competitive advantage in the job market. It will also provide a new spatial analytical approach to their core discipline.
---

Program Outcomes
Students who complete the Certificate program should be able to:
Describe the fundamental principles of Geographic Information Science.
Transform geographic problems from their external model to their conceptual model and computational model.
Implement these models in GIS, web mapping software or other geospatial tools software.
Demonstrate competency in developing geographic models using the Python programing language.
Understand and implement machine learning algorithms and how they relate to geospatial problems.