2nd Annual GIS Job & Career Fair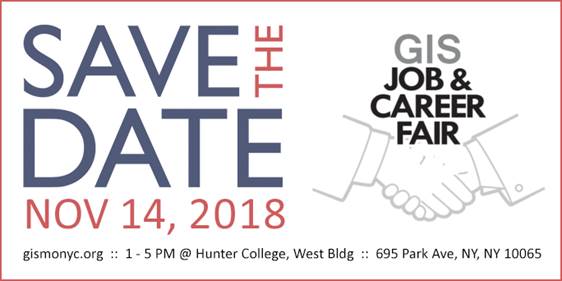 GISMO, New York City's GIS organization, now with more than 400 members, sees a continued opportunity to match the growing need for GIS workers with the increasing number GIS students and graduates trained at New York schools. We will be holding our 2nd Annual GIS Job & Career Fair at which employers looking to recruit GIS trained personnel for full time and part time positions and for internships, can meet with job seekers. Current GIS professionals seeking new opportunities will also be invited to attend. The 2017 GIS Job Fair brought together more than fifteen employers and over 125 job seekers with GIS credentials. This year we expect to do even better and hope you will participate again!
GISMO cordially invites you and your organization to participate in our 2nd Annual GIS Jobs Fair on Wednesday, November 14, 2018 to be held at the Hunter College on the southwest corner of East 68th Street and Lexington Avenue from 1 to 5 PM. The Jobs Fair would work like this: Employers hiring or thinking about hiring will be assigned to tables set up around a central area. They can decorate those tables with banners and brochures. Job seekers will visit the booths, submit resumes if interested, and listen to representatives speak about their organization. Follow up is up to employers and job seekers.

Exhibitor Registration Form

Job Seeker Attendee Registration